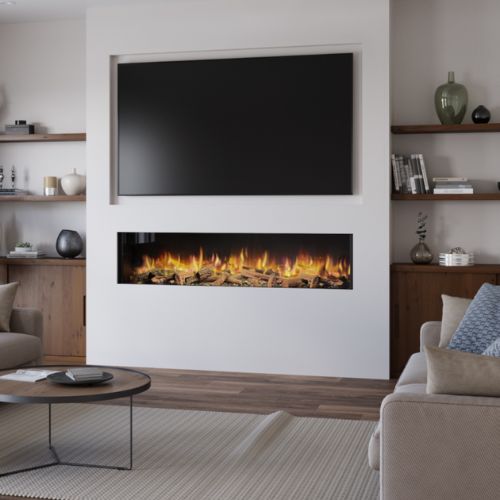 Offering single-sided, double-sided and triple-sided glass layout options, this range allows you the flexibility to express your style and create the perfect focal point for your room. The display can be used with or without distributing heat, allowing you the visual firelight ambience on a warm Summer evening or enjoy its distributed warmth on a cold winter night.
Designed & Engineered in the UK
Contoured realistic flame technology with a custom-designed hand-crafted log bed.
Optional black and amber crystals are provided with your unit meaning you have complete control over your finishing options.
Use of flame effect with or without heat
One box situation with all glass variations available from your unit: front, left-hand, right-hand, and bay (3-sided) orientated options for all models
The customisable flame pattern with 7 different colours to choose from, as well as 10 different colours in your under bed and overhead lighting.
Brightness option available for all lighting features giving you complete control of your fireplace
Ultra quiet fan heater with a seven-day programmer thermostatically controlled (1-2kW)
Convenient App control available and compatible with most smartphones and tablets
With audio volume control, you can set the crackling of your fire to create your authentic fireplace.
Optional extras: LED kit available upon request.
2-year warranty for added assurance.
Request a Quote
Product:
Paul Agnew Ilektro 1650 Landscape
Name:
Email:
Telephone Number:
Floor to Ceiling Height:
Ceiling to Roof Height:
Floor Type:
House Location:
Heater Location:
Roof Type:

Send Request
Request a callback
Product:
Paul Agnew Ilektro 1650 Landscape
Contact Name:
Contact Number:
Time to Call:

Send Callback
Send a Product Enquiry
Product:
Paul Agnew Ilektro 1650 Landscape
Name:
Contact Number:
Email Address:
Preferred Contact:
Suburb / State:
Message:

Send Enquiry