When you need the perfect wood heater, gas heater, cooking stove or reverse cycle air conditioner for your home, it's time to turn to Mr Stoves.
We have over 32-years of industry knowledge, and this, combined with the first class products we supply, really makes us stand out from the crowd. Our commitment to quality means that you can buy from us with absolute confidence.
If you live in South East Queensland, we'd love for you to see our excellent range of stoves, fires, heaters and air conditioners in person! Simply drop into our Brisbane showroom and one of our knowledgeable team members will assist you.
If you live elsewhere in Australia, we can ship your item to your door. Simply give us a call today and we'll be happy to help.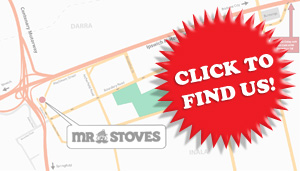 Opening Hours:
Monday to Friday 8am to 5pm
Saturday 8:30 till 12:00
Call us on: (07) 3375 1464
Fax: (07) 3375 1478
You'll find our showroom at:
8 Machinery Street,
Darra, QLD 4076
Fill out the form below to make an enquiry:
Name:
Contact Number:
Email Address:
Preferred Contact:
Suburb / State:
Message: