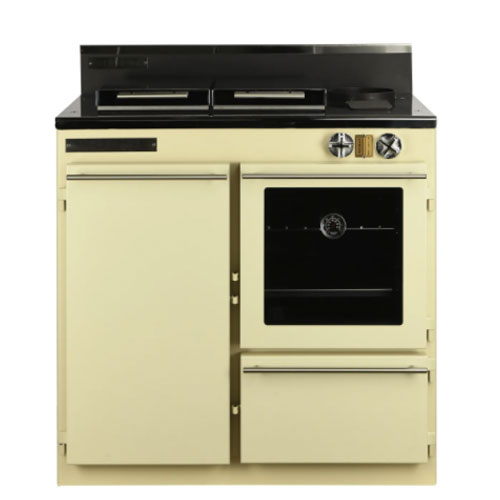 Request a quote
Product Enquiry
Request a Callback
The Thermalux SUPREME has the largest hot plate area and oven capacity in the market.

Country of Origin:
Australia
Availability:
In Stock.

The Thermalux SUPREME III is a high quality, two oven, slow combustion cooking stove with the largest hot plates and oven of any major cooking stove on the market. The original Thermalux Supreme was launched onto the market almost twenty years ago.
The SUPREME is built to last and is constructed from cast iron, heavy gauge steel and stainless steel components. The ovens are self cleaning and self ventilating, and provide even all round oven temperatures for perfect baking. The hotplates have space for six or more saucepans. Dual air controls together with flue damper and dilution controls provide swift response to temperature requirements.
Dimensions:
Height to cooktop : 810mm
Width : 840mm
Depth of cooktop : 590mm
Depth overall : 670mm
Hotplate : 410mm x 500mm
Cooking Oven : 360mm x 350mm x 505mm
Warming Oven : 240mm x 350mm x 505mm
Firebox : 460mm x 320mm x 460mm
Splash Back : 1265mm x 600mm 250mm
Stove Weight : 290kg
Domestic Hot Water : 5kw
Central Heating : 20kw
Request a Quote
Product:
Thermalux Supreme III
Name:
Email:
Telephone Number:
Floor to Ceiling Height:
meters
Ceiling to Roof Height:
meters
Floor Type:
House Location:
Heater Location:
Roof Type:
Request a callback
Product:
Thermalux Supreme III
Contact Name:
Contact Number:
Time to Call:
Send a Product Enquiry
Product:
Thermalux Supreme III
Name:
Contact Number:
Email Address:
Preferred Contact:
Suburb / State:
Message: