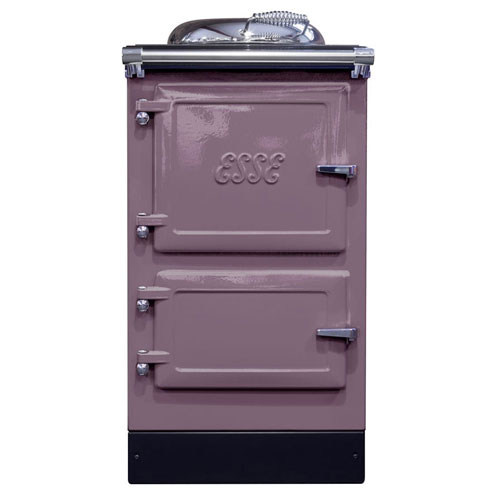 Both efficient and beautiful, the Esse 500EL Electric Companion is the perfect edition to your Esse kitchen. Use in conjunction with an Esse wood stove, or as a stand-alone electric cooker! The seamless design and updated profile ensure a perfect match to your existing Esse stove.
The hotplate on top has the ability to fit three standard sized pans at once, the powerful 33cm hotplate is perfect for high temperature searing to slow cooking. The bolster lids are perfect for creating a steaming and sizzle cooking environment. From slumber mode, the hotplate takes just 41 minutes to reach 400oC.
The Esse 500EL features two true ovens, which can be individually controlled and utilise Esse's patented wrap-around element, ensuring even cooking every time. The top oven also includes a built in electric grill.
Also new to the Esse 500EL is the addition of a separate controller. The control board is now separate from the unit, removing clutter and increasing ease of use. Designed to be mounted on a wall, bench, or hidden in a cupboard!
Unit Dimensions
Height: 900mm
Width: 500mm
Depth: 600mm
Top Oven Specifications
Capacity: 48 Litres
Height: 300mm
Width: 340mm
Depth: 460mm
Racks: 2
Grill: Included
Oven Style: Cast Oven
Thermostatic Controlled: Yes
Max Temperature: 240oC
Bottom Oven Specifications
Capacity: 30 Litres
Height: 200mm
Width: 340mm
Depth: 460mm
Racks: 1
Grill: Included
Oven Style: Cast Oven
Thermostatic Controlled: Yes
Max Temperature: 200oC
Power
Power Requirements: 15 amps
kW: 3.6kW
Request a Quote
Product:
Esse 500EL Companion
Name:
Email:
Telephone Number:
Floor to Ceiling Height:
Ceiling to Roof Height:
Floor Type:
House Location:
Heater Location:
Roof Type:

Send Request
Request a callback
Product:
Esse 500EL Companion
Contact Name:
Contact Number:
Time to Call:

Send Callback
Send a Product Enquiry
Product:
Esse 500EL Companion
Name:
Contact Number:
Email Address:
Preferred Contact:
Suburb / State:
Message:

Send Enquiry