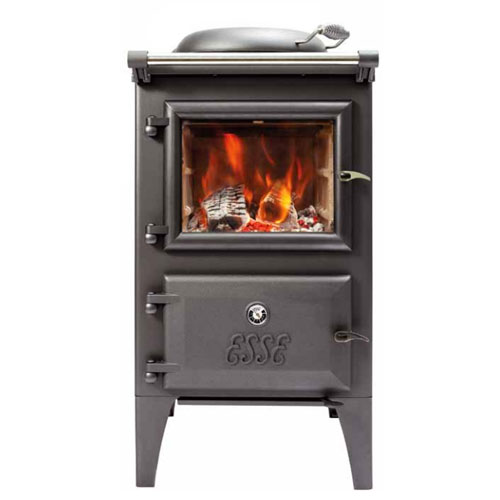 One of the new editions to the Ironheart Family, the Esse Bakeheart is a modern take on the iconic bakers oven. With a four zone multi-function cooktop (heat ranging from 190 to 300 degrees Celsius). Cook the traditional way using pots and pans, or char-grill your vegetables directly onto the cooktop, with Esse's patented hotplate covers. Designed with cooking versatility in mind, BBQ directly inside the firebox of your Esse bakeheart using the included BBQ rack.
Bake like never before in Esse's massive bakers oven. With a depth of 450mm, the Bakeheart can accommodate dishes of any size. Designed for an average cooking temperature of 180 degress Celsius, this oven bakes food perfectly every time.
The Bakeheart can provide all your cooking and heating needs! This unit supports a 2.8kW heavy duty stainless steel domestic water jacket, which can heat up to 300 litres of water.
The Bakeheart slow combustion wood stove is available in two combinations:
Dry (no hot water)
Wet, with 2.8kW wetback
Standard Features
Slow Combustion Wood Heater
Large Single Oven
Large Four Zone Hot Plate
Large Viewing Glass Door In Fire Box
Easy Cleaning
Heats up to 50m2
Available with or with out hot heater
Combination Steel & Cast Iron Construction
Available Wet with 2.8kW Hot water Jacket or Dry (No Hot Water)
Unit Dimensions
Height: 900mm
Width: 500mm
Depth: 600mm
Clearances to Combustible Materials
Rear: 225mm
Side (Below Hob): 130mm
Side (Above Hob): 500mm
Corner: 275mm
Oven
Size: 32 Litres
Height: 200mm
Width: 350mm
Depth: 450mm
Rack Positions: 4
Oven Racks: 1
Performance:
Heating Capacity 50m2
Hot Water OutPut: 2.8kW
Efficiency: Max 66% with seasoned wood
Emissions: 1.4g/kilogram of wood burnt
Request a Quote
Product:
Esse Bakeheart
Name:
Email:
Telephone Number:
Floor to Ceiling Height:
Ceiling to Roof Height:
Floor Type:
House Location:
Heater Location:
Roof Type:

Send Request
Request a callback
Product:
Esse Bakeheart
Contact Name:
Contact Number:
Time to Call:

Send Callback
Send a Product Enquiry
Product:
Esse Bakeheart
Name:
Contact Number:
Email Address:
Preferred Contact:
Suburb / State:
Message:

Send Enquiry