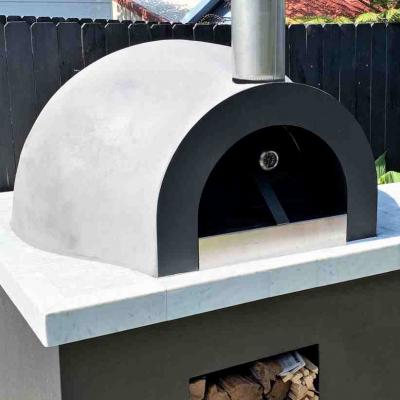 Request a quote
Product Enquiry
Request a Callback
The Calabrese 800 Neo DIY Pizza oven offers an ultra-modern design and finish as well as high efficient and functionality.

Country of Origin:
Australia
Availability:
Made to Order.
Installation:
This is a DIY Kit.
Don't want to DIY? We can quote to install it for you. To find out more call us on (07) 3375 1464.

The Calabrese 800 Neo pizza oven has a new modern front design that includes a built in smoke gather. This unit is perfect for entertaining in a small courtyard or on a backyard deck.
This pizza oven has the capacity to cook 2 x 300mm pizzas at a time and is perfect for those who love to entertain outdoors. It takes only 30 minutes to heat up (from 0 to 400 Degrees C). The Calabrese 800 DIY woodfired pizza oven kit comes with detailed instructions.
This Pizza Oven Kit Includes:
25mm Calcium silicate hard underfloor insulation
50mm precut cooking floor tiles
Precast refractory Dome
Insulation Blanket 50mm (Ceramic fibre blanket)
Front flue arch firebricks precut
CNC precut front arch template
Mortar tub
Black steel door with temp probe
900 x 150mm Stainless steel flue with rain hat
| Dimensions | Width (mm) | Depth (mm) | Height (mm) |
| --- | --- | --- | --- |
| External | 1200 | 1200 | 500 |
| Internal Cooking Floor | 850 | 1040 | 340 |
| Ideal Base Size | 1200 | 1200 | 950 |
Weight: DIY kit - 450kgs, finished on slab - 550kgs
Heating time: 0 - 400 degrees = 30 mins
Request a Quote
Product:
Calabrese 800 Neo
Name:
Email:
Telephone Number:
Floor to Ceiling Height:
Ceiling to Roof Height:
Floor Type:
House Location:
Heater Location:
Roof Type:

Send Request
Request a callback
Product:
Calabrese 800 Neo
Contact Name:
Contact Number:
Time to Call:

Send Callback
Send a Product Enquiry
Product:
Calabrese 800 Neo
Name:
Contact Number:
Email Address:
Preferred Contact:
Suburb / State:
Message:

Send Enquiry