Alderlea T4 is finally here!
Alderlea
comes in 3 sizes: T4, T5 and the T6. The
Alderlea T4
includes a massive glass wind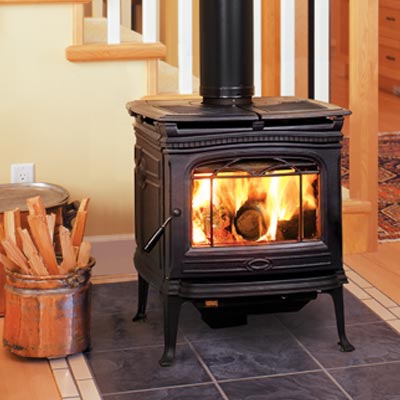 The Alderlea comes in 3 sizes: T4,
T5
and the
T6
. The T4 is high-powered, dependable source of heat with a traditional aesthetic charm and unmatched durability. The T4 is recommended for small to medium sized areas. The T4 is recommended for small to medium areas.
Technology:
Air Wash:
Soot-covered fireplace glass? Not likely with an Alderlea T4. With 30 years of continued refinement; the Alderlea T4 creates a high-pressure zone in the center and forces air to flow from above and across the glass.
Self Sealing Ash Dump:
Problems with Ash removal? The Alderlea T4 has a hassle-free system. The Alderlea T4 has a self-sealing, spring-loaded trap door that enables a clean and safe ash removal.
Baffle System:
The Alderlea T4 has a "clean burn" technology, it has a high capacity baffle to burn the combustible elements in the air, this improves the Alderlea T4's environmental performance while considerably reducing the amount of wood that is consumed.
Cast Iron Over Steel:
The Alderlea design combines the best aspects of each metal: the steel stove and floating firebox is free to expand and contract, and its design maximises convective heat efficiency, while the cast iron wrapping provides radiant heat.
Floating Firebox:
The floating firebox system is solidly designed with 304 grade stainless steel brick-support rails, it allows key parts to expand and contract, which adds years of life to the entire stove and minimises metal fatigue.