Open Fireplace to a Inbuilt Slow Combustion
Converting an Open Fireplace to a Inbuilt Slow Combustion Heater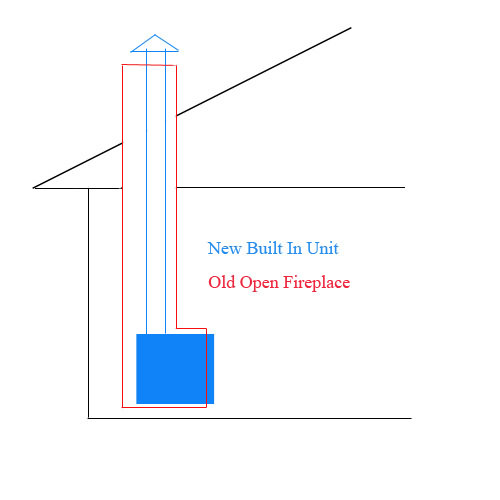 Open Fireplaces were popular in the 1970's before the safer and more efficient Slow Combustion Heaters were introduced. Slow Combustion Heaters improve on the design of Open Fireplaces in a number of different ways. Modern heaters are safer, more efficient, and produce much more heat with less wood. As you can see from the diagram above, the Slow Combustion Inbuilt unit is simply inserted into your open fireplace cavity, making the install process very easy.
| Open Fireplace | Built in Slow Combustion Heater |
| --- | --- |
| Risk of a log rolling out into the room | Fully enclosed and safe from logs rolling out |
| Smoke easily enters the room | Safe when door is locked, no smoke into room |
| Very inefficient burning | Very efficient, producing more heat with less wood |
| Significant loss of heat through the chimney | Heat is pushed into the room via convection |
| Very dirty burning (can be as high as 50g/kg of Particulate Matter) | Very clean burning (typically less than 1.2g/kg of Particulate Matter) |
Converting an Open Fireplace to a Slow Combustion Heater is one of the best ways to increase the efficiency of your fireplace, as well as increasing the amount of heat entering your home. This process is very simple and low impact, as the majority of your existing Open Fireplace can be re-purposed for the new built in unit.
The possible unit selection for the new inbuilt heater is dependent on the size of the existing open fireplace. To preserve the look of your open fireplace, the flue for the unit is run part-way up the cavity and secured in place with fiberglass batts. Our installers are very familiar with these installs. We typically convert several open fireplaces a week and have much experience with this process.
When coming in-store to see us, all that we require to put together a full quote for your is:
Photos of the Open Fireplace (close-up and far back)
Measurements of the opening and the back of the fireplace (width, depth, height)
Based on this information, we can help choose a unit that will work best for your needs and arrange the entire process for you.
Call us today on
(07) 3374 1464
and chat to a member of our friendly sales team!