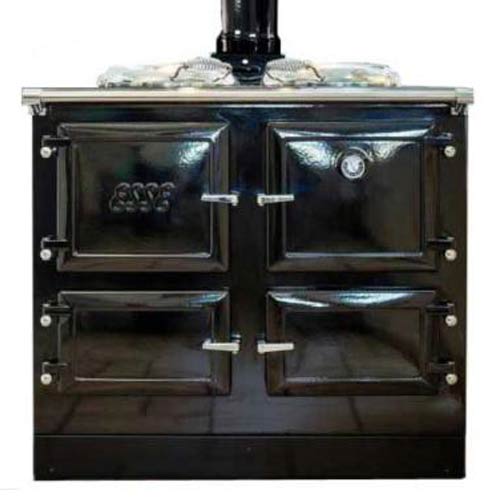 Drawing from the classic ESSE styling of early 20th Century, the ESSE hybrid blends vintage aesthetics with modern convenience.
The left hand side of the Hybrid is completely wood-fired, with both the is hot plate and oven supplying heat and cooking energy. ESSE's classic stylings are ever-present, featuring Esse's glass door on the wood firebox, allowing you to your fire and release heat into the room.
The right hand side of the unit is completely electric and features two true ovens. The top oven can heat up to 240 degrees Celsius, with the bottom reaching as hot as 200 degrees Celsius. Each oven is controlled via an electronic thermostat. The large skillet hotplate on the right hand side is completely electric. Both the wood and electric side can be used in conjunction with one another, giving you three ovens and a massive cooking hotplate all at once!
Unit Dimensions
Height: 900mm
Width: 990mm
Depth: 600mm
Oven Capacity:
Top Right Oven: 42ltr
Bottom Left Oven: 32ltr
Bottom Right Oven: 30ltr
Top Right Oven Dimensions:
Width: 340mm
Height 300mm
Depth 460mm
Bottom Left Oven Dimensions:
Width 340mm
Height 200mm
Depth 460mm
Bottom Right Oven Dimensions:
Width 340mm
Height 200mm
Depth 460mm
Hot Plates
Left Hand Side Heated by Wood Hot Plate
Right Hand Side Heated by Electric Hot Plate
Power Requirements
15 Amps
General Information
Flue pipe diameter: 6″ (150mm)
Clearances:
Non-combustible material from sides 7mm (except when adjacent to Plus2)
Combustible material from side 30mm
Combustible material from back 60mm.
Request a Quote
Product:
Esse 990 Hybrid
Name:
Email:
Telephone Number:
Floor to Ceiling Height:
Ceiling to Roof Height:
Floor Type:
House Location:
Heater Location:
Roof Type:

Send Request
Request a callback
Product:
Esse 990 Hybrid
Contact Name:
Contact Number:
Time to Call:

Send Callback
Send a Product Enquiry
Product:
Esse 990 Hybrid
Name:
Contact Number:
Email Address:
Preferred Contact:
Suburb / State:
Message:

Send Enquiry