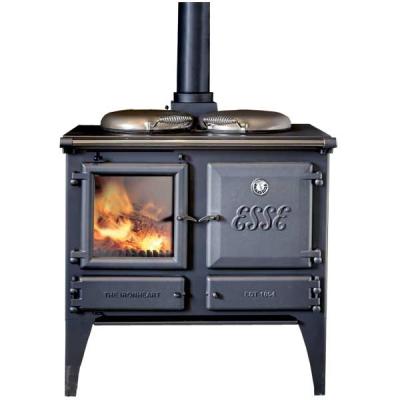 Request a quote
Product Enquiry
Request a Callback
Economical and beautiful, the Esse Ironheart is the perfect edition to all homes. Manufactured in the United Kingdom, the Ironheart is built to last.
Country of Origin:
England
Availability:
In Stock.

Boasting fantastic heating capabilities and great looks, this industry-first combines all the features of a Wood Stove with the heating ability rivaling the best Slow Combustion Wood Heaters. With the Ironheart's large glass door, this unit will not only offer full slow combustion cooking, but enough warmth to heat up to 80 square metres.
Standard Features
Slow Combustion Wood Heater
Large Single Oven
Enamel top coat finish around the hot plates
Large Double Bone Shape Hot Plate
Glass Door In Fire Box
Easy Cleaning
Heats up to 8 squares (80 square metres)
Combination Steel & Cast Iron Construction
Large Cleaning Access Door under Oven
Available Wet with 5Kw Hot water Jacket or Dry
Available with a 5Kw wet back ( All S/Steel ) for your domestic hot water needs OR an 8Kw wet back. The Iron Heart now comes standard with a Wood Box for burning wood only, which lowers emissions and longer burn times.
Dimensions
Height: 900mm
Width: 905mm
Depth: 600mm
Clearances to Combustible Materials
Rear: 200mm
Side: 160mm
Clearances to Non-Combustible Materials
Rear: 20mm
Side: 20mm
From bolster lid: 416mm
Hearth Requirements
In Front of doors: 300mm
Total Width: 1,300mm
Total Depth: 1,050mm
Fire Box
Height: 315mm
Width: 265mm
Depth: 520mm
Grate: Yes
Firebrick Lined: Yes
Oven Dimensions
Height: 430mm
Width: 325mm
Depth: 445mm
Rack Positions: 4
Oven Racks: 1
Other
Heat Output Average: 6Kw
Hot Water OutPut: 5Kw
Efficiency: Max 81% with seasoned wood
Fuel Capacity: 18 inch logs
Fuel Consumption: 4 lbs. seasoned wood per hour
Request a Quote
Product:
Esse Ironheart
Name:
Email:
Telephone Number:
Floor to Ceiling Height:
meters
Ceiling to Roof Height:
meters
Floor Type:
House Location:
Heater Location:
Roof Type:
Request a callback
Product:
Esse Ironheart
Contact Name:
Contact Number:
Time to Call:
Send a Product Enquiry
Product:
Esse Ironheart
Name:
Contact Number:
Email Address:
Preferred Contact:
Suburb / State:
Message: