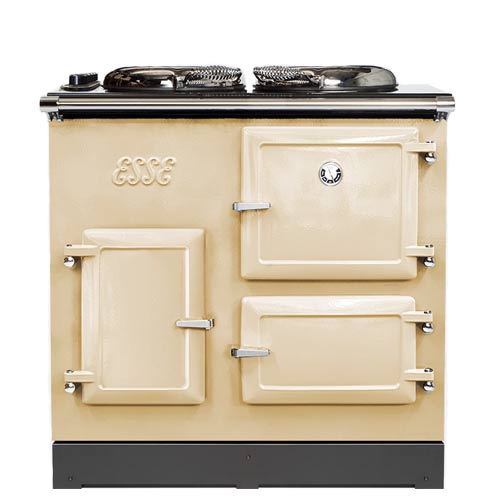 This cast iron and enamel cooker maintains its design with classic ESSE wood cookers. The key features of this cooker are that underneath the traditional bolster lids lie innovative inductions hobs.
Induction is one of the most advanced, energy efficient, controllable and safe forms of electric hotplate heating. Unlike other hotplates, induction technology heats the pan itself, instead of the hob. This technology reduces both energy wastage as well as making cleaning both safer and easier. One side of the hotplate is induction, with the other side being a solid mass hot plate, giving you the best of both worlds.
Both ovens can be operated independently of each other allowing for a wide range of cooking practices. An optional towel rail can also offer welcoming warmth at the touch of a button.
The new Esse 990EL now plugs into 2 x 13amp power points, removing the need for any expensive electrical work!
Unit Dimensions
Height: 900mm
Width: 905mm
Depth: 600mm
Oven Capacity:
Top Fan Oven: 42 Litres
Bottom Oven: 30 Litres
Hotplate: 1 Zone Induction and 1 Zone Solid Mass
Oven Dimensions:
Top Oven
Width: 360mm
Height: 310mm
Depth: 460mm

Bottom Oven
Width: 360mm
Height: 200mm
Depth: 460mm

Power Supply Requirements: 15Amp

Heating Times from Cold
Top Oven: 41min to heat to 240oC
Bottom Oven: 30min to heat to 240oC
Cat Iron Hot Plate: 40min
Induction Hot Plate: Instant
Request a Quote
Product:
Esse 905EL
Name:
Email:
Telephone Number:
Floor to Ceiling Height:
Ceiling to Roof Height:
Floor Type:
House Location:
Heater Location:
Roof Type:

Send Request
Request a callback
Product:
Esse 905EL
Contact Name:
Contact Number:
Time to Call:

Send Callback
Send a Product Enquiry
Product:
Esse 905EL
Name:
Contact Number:
Email Address:
Preferred Contact:
Suburb / State:
Message:

Send Enquiry