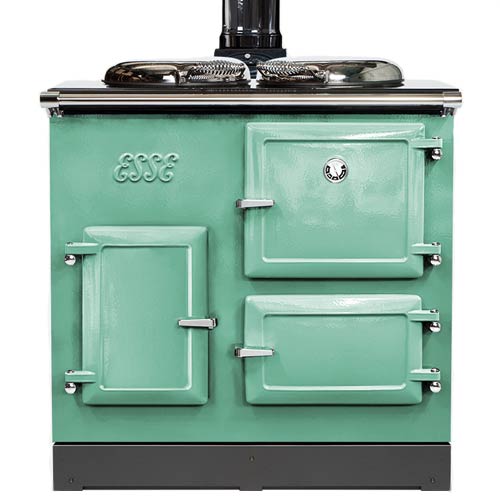 The Esse 905 Series Cooker is the upgrade to the Esse 900 model - and it still is undoubtedly one of the most outstanding cookers on the market.
The perfect wood stove for the modern household has to be clean, low maintenance and easy to live with.


The New 905 upgrade offers:
New Profile Doors
New Chrome Towel Ends
New easier clean out acccess ( now in the oven )
Clean and stylish New Esse Logo
With 3 models to choose from...
The ESSE 905 WN Wood Stove has No Hot Water
The ESSE 905 WD Wood Stove has a 5Kw Domestic Wet Back
First for Australia a wood stove with a difference.
Low Carbon Emission Wood Stove...With a single Ash Bed Fire Box and the ESSE Patterned After Burner offering the Lowest Carbon emission wood stove available.
74% Efficient
2 True Ovens
Ash Bed Design Fire Box
Solid cast Iron Wood Stove
Highest quality enamel finish
Highest efficient Burning Wood Stove in the world
Takes 450mm Long Wood!!!!
Dog Bone Hot Plates
Hot Plate Covers as Standard
Center Flue
Cream - Black Other colors available as special Orders
Dimensions:
Height: 900mm
Width: 905mm
Depth: 600mm
Flue Size: 150mm
Clearances:
* Rear: 40mm
Side: 30mm
Corner Installation: 30mm
* With the rear clearance - to align with the ceiling ring and/or optional range hood - we recommend 70mm rear clearance
Hearth Requirements:
In Front of doors: 300mm
Total Width: 1,305mm
Total Depth: 990mm
Firebox Specs:
Height: 320mm
Width: 200mm
Depth: 480mm
Type: Ash Bed
Firebrick Lined: Yes
Overnight Burn: Yes
Main Oven Specs:
Height: 310mm
Width: 360mm
Depth: 460mm
Racks Positions: 4
No of Racks: 1 + Roasting Dish
2nd Oven:
Height: 200mm
Width: 360mm
Depth: 460mm
Rack Positions: 2
No of Racks: 1
Cooking oven: Yes
Average wood use: 1.3Kg Per Hour Domestic Hot water
Average wood use: 4Kg Per Hour High Power Boiler
Request a Quote
Product:
Esse 905 Series
Name:
Email:
Telephone Number:
Floor to Ceiling Height:
Ceiling to Roof Height:
Floor Type:
House Location:
Heater Location:
Roof Type:

Send Request
Request a callback
Product:
Esse 905 Series
Contact Name:
Contact Number:
Time to Call:

Send Callback
Send a Product Enquiry
Product:
Esse 905 Series
Name:
Contact Number:
Email Address:
Preferred Contact:
Suburb / State:
Message:

Send Enquiry