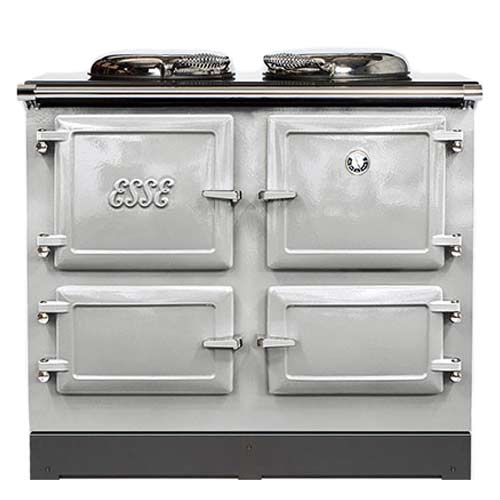 Built like a wood stove but with the elegance and functionality of a electric stove, the 990EL 13amp electric cooker is in a class of its own.
With three cooking stoves with multiple temperature settings, the sky is the limit. The top oven has a capacity of 42 litres. The bottom right oven has a capacity of 30 litres, and the bottom left oven has a capacity of 30 litres. These ovens feature a wrap-around element, removing the need to turn the food during cooking! In the top of the upper-most oven is Esse's full width electric grill, which is perfect for grilling any dish.
The top hotplate features one side of induction cooking, with the other side being a solid-mass cast iron cooktop. This gives users the ability to use both pans or cook on the cooktop surface directly. The two chromed hotplate covers keep your Esse 990EL looking great and trap the heat inside.
Now only requiring 13 amps of power, the Esse 990EL plugs into two conventional power plugs. One for the induction cooker, one for the ovens.
Unit Dimensions
Height: 900mm
Width: 990mm
Depth: 600mm
Clearances from Combustibles
Side Clearance: 20mm
Rear Clearance: 20mm
Top Backing Oven
Capacity: 42 Litres
Height: 300mm
Width: 340mm
Depth: 460mm
Maximum Temperature: 240oC
Bottom Left Baking Oven
Capacity: 30 Litres
Height: 200mm
Width: 340mm
Depth: 460mm
Maximum Temperature: 75oC
Bottom Right Warming Oven
Capacity: 30 Litres
Height: 200mm
Width: 340mm
Depth: 460mm
Maximum Temperature: 200oC
Heating Times from Cold
Top Oven: 41 mins
Bottom Right Oven: 30 mins
Cast Iron Hotplate: 40 mins
Induction Hob: Instant
Request a Quote
Product:
Esse 990EL
Name:
Email:
Telephone Number:
Floor to Ceiling Height:
Ceiling to Roof Height:
Floor Type:
House Location:
Heater Location:
Roof Type:

Send Request
Request a callback
Product:
Esse 990EL
Contact Name:
Contact Number:
Time to Call:

Send Callback
Send a Product Enquiry
Product:
Esse 990EL
Name:
Contact Number:
Email Address:
Preferred Contact:
Suburb / State:
Message:

Send Enquiry