Environmentally Friendly Heating
In recent years the environment and our carbon footprint has become of greater importance to many. At a glance, wood heating can often be seen as being non-environmentally friendly simply because of its production of smoke into the atmosphere, however looks can be deceiving.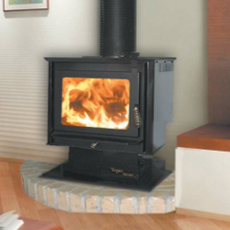 Here at Mr Stoves we use the latest technology to design the most advanced and fuel efficient firebox possible. We continually develop our wood heaters to ensure that they are both effective at keeping you warm as well as ensuring that they aren't releasing excess smoke and harmful chemicals into the atmosphere.

As a result of previous pollution concerns the Australian Government has developed one of the toughest emissions standards in the world. Since 1992 all wood heaters being manufactured must meet the AS/NZS 4013 legislation to ensure they are clean burning and environmentally friendly. Mr Stoves are proudly the manufacturers of the Vogue wood heaters which as a result of their superior emission output and unique features allowed the Vogue Navara and Vogue Pintel to win the 1992/93 Australian Design Award.

Early fears of the effect of burning wood and releasing excess Carbon Dioxide have now been refuted and it has been determined that wood burning doesn't emit anymore carbon dioxide than would be released into the atmosphere when wood naturally decomposes. Smoke from chimneys can be a nuisance to neighbours so ensuring only a minimal amount is released from your chimney is important.

Here are some helpful tips to ensure you're burning your wood properly and thus reducing the amount of smoke being emitted from your chimney:



Burn only dry, well-seasoned wood
Store wood in a criss-cross fashion, under cover
Never use petrol, kerosene or oil to start the fire
Buy wood from a reputable supplier
Purchase early, so wood can air dry
Store wood for up to six months

It is clear that Wood heating can be an environmentally friendly, carbon neutral heating alternative, when undertaken properly. By following these guidelines for proper and efficient use of your wood heater, you can be assured that heating your home will always be an environmentally friendly choice.